Foreign aid: shortfall since 1970 almost $5 trillion; greater than aid given
Over 40 years ago, rich country governments agreed to give 0.7% of their GNI (Gross National Income) as official aid to poor countries for development assistance. The average aid delivered each year has actually been between 0.2 to 0.4%. The shortfall has therefore accumulated to almost $5 trillion dollars at 2012 prices, while total aid delivered in that same time frame has reached $3.6 trillion. This update includes updated charts and graphs that look into this further. Read full article: Official global foreign aid shortfall: $4 trillion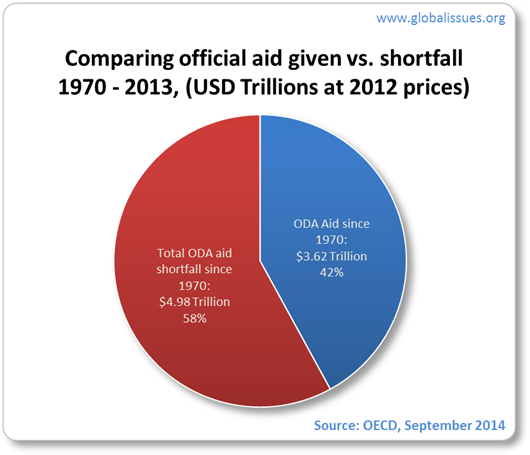 Over 40 years ago, rich country governments agreed to give 0.7% of their GNI (Gross National Income) as official aid to poor countries for development assistance.
The average aid delivered each year has actually been between 0.2 to 0.4%. The shortfall has therefore accumulated to almost $5 trillion dollars at 2012 prices, while total aid delivered in that same time frame has reached $3.6 trillion.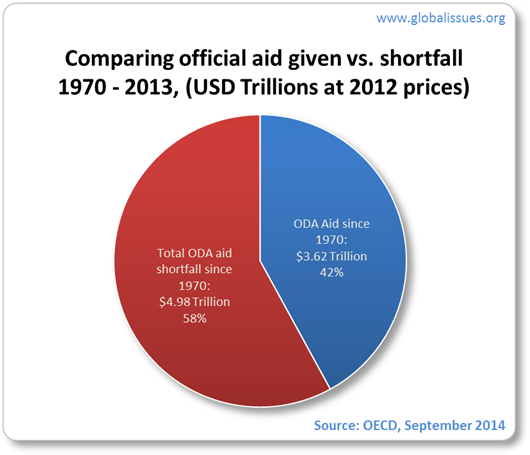 This update includes updated charts and graphs that look into this further.
Read full article: Official global foreign aid shortfall: $4 trillion