UK confirms transfer of advanced weapons to Ukraine
The UK Defence Ministry has confirmed that Britain is providing modern Brimstone 2 missiles to Ukraine, despite Moscow's repeated warnings Read Full Article at RT.com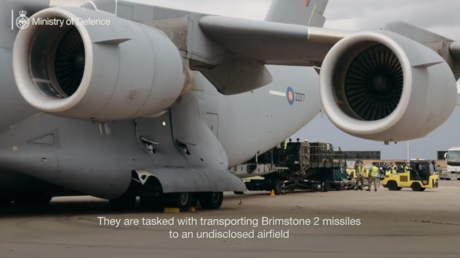 Cutting-edge Brimstone 2 missiles will bolster Kiev's forces
The UK Defence Ministry has confirmed that Britain is supplying Ukraine with modern laser-guided Brimstone 2 missiles, shrugging off Moscow's repeated warnings about the risk of triggering a direct conflict between NATO and Russia.
The ministry posted a video clip on Twitter on Sunday, showing at least one pallet of the high-precision missiles being delivered from the Royal Air Force Brize Norton base in Oxfordshire to an undisclosed airfield. The missiles were part of a UK "aid package" for Ukraine, the ministry said, confirming earlier media reports of such deliveries taking place for some time. 
"This aid has played a crucial role in stalling Russian advancements," the ministry claimed in its tweet.